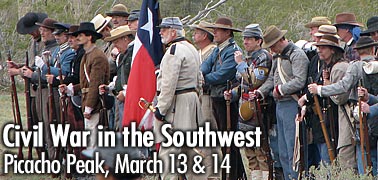 The annual Civil War in the Southwest will be held March 13 & 14, 2010 at
Picacho Peak State Park!
Each year hundreds of spectators descend on Picacho Peak State Park to watch re-enactments of an Arizona Civil War skirmish and the New Mexico battles of Glorieta and Val Verde.
Visitors travel from around the country to experience the three fascinating historic re-enactment's complete with lifestyles of the soldiers in the southwest during the 1860s. More than 200 re-enactors come in from many states and will camp at the park with their authentic Civil War camping gear. Food and beverage concessions are also available, including the popular Kettle corn vendor.
For more information on this event and other events in our State Parks, click on the picture above.